Welcome to
COMEDY SPECIALISTS
Home Page
Unique & hilarious Comedy Acts, Packages, Tours & Cruises...
with Individualised Comedy Scripts...
for all special occasions!
We provide friendly service & excellent value!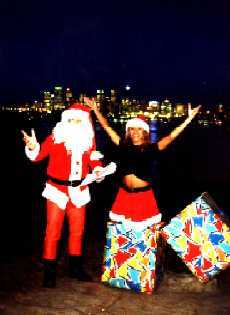 Our most popular Christmas Party Act for over 18 years with audience involvement &
comedy script especially written & performed by Don Murchison.
The Anorexic Santa & Ms Mary Christmas Comedy & Dance Act.
.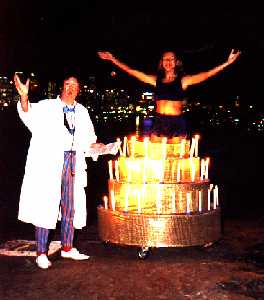 Very popular for birthdays, especially 21sts & 50ths
It never ceases to amaze us how all ages & nationalities love this Act!
Cake Act, with Comedian, Dancer & specially written Script!
QUICK LINKS:
*
*
*
*
*
*
.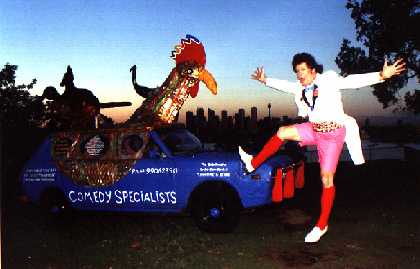 Chookmobile-'Limo' Act!
Up until 2015 the Chookmobile used to be the prop for our most popular Show ~
Unfortunately, after years of strutting around Australia, with gigs in all major cities
followed by the Chookmobile-'Limo' Act, after Don Murchison settled in Sydney
the near vintage Subaru was the only such car still on the road. With car parts
now impossible to find to keep it on the road, it is with a very heavy heart to
announce that the SubaRooster Chookmobile is now off road
& this unique & popular act is no longer available.
Thank you to all the people who have booked this act over the years.
It has been a pleasure to entertain so many of you.
* * * * * * * * * * * * * *
BOOKINGS:
Ph. 9906 2350
within Sydney
or from outside Australia, dial
61 - 2 - 9906 2350.
EMAIL
fun@comedyspecialists.com.au
* * * * * * * * * * * * * *
SPECIAL and UNIQUE EVENTS:
Leave the concrete jungle for a real jungle experience right in the heart of Lane Cove. This year the ENCHANTED NIGHT GARDEN is the 18th annual Jungle Chalet Art, Craft and Watergarden event. Don Murchisons Jungle Chalet Watergarden Artscape includes sculptured streams, ponds, waterfalls, along with colourful lights, laser and fog effects and atmospherics. Be fascinated by hygromorphomatics ~ the term Don uses to describe the artistic harvesting of rainwater, to create artificial streams, ponds & waterfalls, with real sound dynamics of moving water. Bring the family to discover the Sculptured Rainforest Walk, the Spouting Elephant, Gorilla in the Mist sculpture, voice tube and more.
It is on the first three Saturday evenings in September 2018: 1st, 8th & 15th; as part of the Lane Cove Festival.
Visitors are amazed that a mini rainforest wonderland can exist just 12 minutes drive from Sydney's CBD!
* * * * * * * * * * * * * *
WHO ARE WE?
'Comedy Specialists' are the 'laughter doctors' who specialise in stress release! In the crazy world we live in, the only way to remain completely sane, is to book an act by those whom some regard as 'over the edge!' Make sense? Its simple ~ Laughter is the only medicine!... The best & only way to remain completely healthy!......So if your partner has left you, your sleeping pills no longer work, you missed winning Lotto by one number, its your colleague's birthday & she's one day older than she was yesterday, you're invited to a Conference but then find that you're expected to deliver a mesmerising speech, or you're retiring but they won't let you out the door before you deliver a speech....There is an answer to your prayers - "COMEDY SPECIALISTS!"..... A laugh a day will keep the doctor & psychiatrist away!!! ... If you aren't convinced, book our Mad Psychiatrist or a 'Fake Psychic' to 'predict' your colleague / friend's future in an outrageous way!...or a hilarious afterdinner Speech
Imagine being picked up at the airport in the CHOOKMOBILE (...a very stretched chook, instead of a real limousine) & during a slap-stick journey of adventure, which usually includes a faked breakdown, be driven to your hotel (or sightseeing), along with a personalised Comedy Script to welcome you to Sydney!... What a sensational way to send your M.D. to a conference! ... Outrageously popular for Hen's Nights! - We wish you could see the Chookmobile-'Limo' Act...! but as of 2015, unfortunately the [SubaRooster] Chookmobile is no longer registered, due to the unavailability of car parts for this 1975 vehicle.
Oh well, there are 40 of you?!... OK, we'll see if we can arrange a bus instead, along with 3 - 4 comedians & crazy costumed characters!!! If you don't have a good laugh this time, we'll send you to the local dentist for root canal therapy, complete with laughing gas! ...or loosen you up on a Coach Tour to the Hunter Valley to sample famous Australian wine (forget your ties & frocks, we'll dress you up as Sydney school boys & girls, & there'll be plenty of opportunities to 'play up' to the teachers - as they are all actors and comedians!)
Great Conference entertainment includes hilarious after-dinner Speeches, Comical Catering, Foolty Towers Impostors Act & many other acts, along with Complete Entertainment Packages.
We don't forget Birthdays - book a Comedygram, the Cake Act (comedian, with dancer jumping out of cake!) We also perform for Childrens' Birthdays!
For Christmas, see the Santa Comedy & Dance Act (with Anorexic Santa & Ms Mary Christmas!), also our Complete Entertainment Packages with Comical Catering, and where children are involved, Family orientated Company Picnics.
On a serious note, we specialise in writing personalised or customised scripts. We fax you questionnaire forms which become the brief for scripting your speech or performance!
FIT's, Honeymooners, or those of you who have clocked up a few years of marital survival... consider a Comedy Wedding Anniversary Show... a re-enactment of your wedding in comedy, with the 'priest' as a comedian, & you exchanging padlocks (instead of rings) on each others fingers! Afterall, its much more fun & cheaper than the real thing! If you're still single, get married for a laugh! ...A Comedy Wedding is the only way to avoid alimony!
...But no trip to Sydney is complete without a Comedy Harbour Cruise...complete with crazy costumed waiters and waitresses (Comical Catering), carricaturist, musician, photographer and a special humorous Speech welcoming you to Sydney!
We hope you enjoy surfing your way through all the potential laughs and fun we have to offer. We look forward to bringing a laugh your way!
* * *
Remember
OUR MISSION
is to make you laugh!
All we need,
is the opportunity!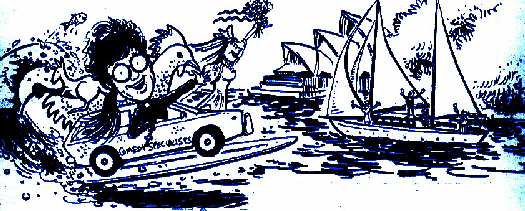 Comedy Harbour Cruises and Comedy Wedding Anniversary Show, on Sydney Harbour!
* * *
call
9906 2350
from Sydney
or from outside Australia, dial
61 - 2 - 9906 2350.
* * * * * * * * * * * *
PLEASE CLICK ON THE ACT or SHOW WHICH INTERESTS YOU: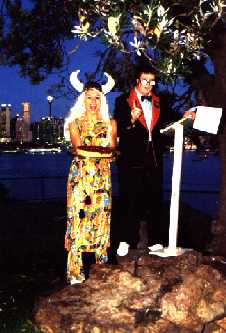 Corporate witty afterdinner impostor Speaker
alongside Comical Catering budding operatic waitress.
or PLEASE CLICK ON AN OCCASION, AND WE WILL TELL YOU THE ENTERTAINMENT WE CAN PROVIDE FOR YOU:
* * * * * * * * * * * * * *
BIOGRAPHICAL & OTHER LINKS:
* * * * * * * * * * * * * * * * * * * * * * * * * * * *
COMEDY SPECIALISTS
The Jungle Chalet,
Valleyview Glen,
Cnr Valleyview Cres. & Innes Rd,
Greenwich,
SYDNEY, NSW, 2065.
AUSTRALIA.
EMAIL
fun@comedyspecialists.com.au
Phone (overseas):
61 - 2 - 9906 2350.
(9am - 6pm, Monday - Friday. Answer phone after hours.)
Phone (local):
9906 2350.
(Dial within Sydney.)
Mobile:
Not applicable. (Used en route to gigs.)
Thank you for visiting Comedy Specialists.