Flying Sculpture, 2008:
Don Murchison commissioned life sized sculpture from art studios in the countryside of China and after their epic journey all the way to Sydney [a story in itself!], they had to be airlifted the final 50 metres to their ultimate resting place by helicopter! Local residents remember the day in January, when marble ladies were seen flying through the air! Maybe this should have been a Sydney Festival event?...You can now see these and many other delights, at the Jungle Chalet, as part of the Lane Cove Cammeraygal Festival and also the Studio Artists Weekend in the Willoughby Spring Festival.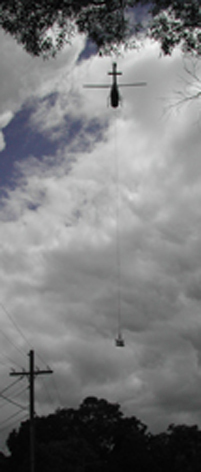 After piano removalists, builders & tomb stone masons declined to carry
the graceful ladies down the bush paths, a helicopter was the last resort!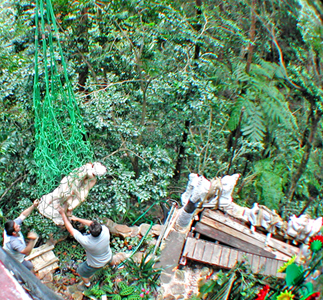 The sculpture was carefully lowered & positioned into place.
History of the Jungle Chalet Art & Craft Exhibitions:
This is be the 8th Jungle Chalet Exhibition, hosted by Greenwich comedian, writer & artist Don Murchison. These exhibitions began as an opportunity for Don to present his leadlight works, many of which form colourful windows in his home, the Jungle Chalet. It also provided local artists with an opening to display and promote their works collectively, in a unique bushland environment. Soon it expanded to include national and international guest artists.
Previous Jungle Chalet exhibitions have been opened by Anthony Roberts [as previous Mayor, & now local member of NSW Parliament, Kerry Chikarovski [as previous local member & previous leader of the Opposition] & Ian Longbottom, as Mayor & Councillor of more than 10 years standing. Besides being supportive of local artists, as Patron of the Lane Cove Art Society, Ian Longbottom also runs the local Village Observer monthly publication.
The Jungle Chalet is set in a unique rainforest setting, bordering the Lane Cove Bushland Park. The owner, artist Don Murchison, has been renovating his house in an original & fascinating design, that blends in & complements the rainforest environment.
* * * * * * * * * * * * * *
* * * * * * * * * * * * * *
COMEDY SPECIALISTS
The Jungle Chalet,
Valleyview Glen,
Cnr Valleyview Cres. & Innes Rd,
Greenwich,
SYDNEY, NSW, 2065.
AUSTRALIA.
EMAIL
jungle.chalet.art@comedyspecialists.com.au
Phone:
61 - 2 - 9906 2350. (9am - 6pm, Monday - Friday. Answer phone after hours.)
Mobile:
0414 390 324.
This page was last amended 30.8.2008.