SUPPOSITION:
The audience involving show (colleagues are the show!)
which is intellectually & creatively challenging.
A lively, inter-reactive, improvised panel game show
similar to Geoffrey Robertson's Hypothetical.
Some of your colleagues are the Panel,
Don Murchison is Moderator.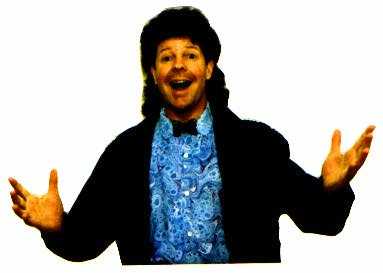 If you have seen Hypothetical on TV and enjoyed it...then how about trying our SUPPOSITION?
Don murchison chooses a scene, topic or scenario. In consultation with your company, he will assign 6 - 12 colleagues with a particular role (or career title.) Don begins by explaining the scenario. This will be thoroughly explored during the course of the panel-show. Colleagues will be placed in situations where they must make instant decisions which will affect the fictitious future of their lives and others on this planet!
To make it more amusing, colleagues are not forewarned about their role, or the imminent scenario they are about to play out. SUPPOSITION is entirely improvised, with the improvisation based on predetermined guidelines. Anything can happen!
SUPPOSITION is recommended for those who want to have an erudite sequel to the millennium. It is ideally suited to a Christmas Party in the boardroom. It is also ideal for Conferences, as it enables the staff to be challenged and entertained, while amusing each other!
SUPPOSITION is usually approximately one hour in duration.
The COST of the act is $1,500.
These fees apply when bookings are confirmed by fax, with more than 5 office days notice, up until 13th November & after 10th January. A Short Notice charge of $100 applies with less than five office days confirmed notice. During the Corporate Silly Season, 13th November - 10th January, a Short Notice charge of $250 applies with less than ten office days (2 weeks) confirmed notice.
* * * * * * * * * * * * * * * * * * * * * * * *
* WE REQUIRE PAYMENT UPON CONFIRMATION, FOR ALL OVERSEAS BOOKINGS. i.e. When we send you the CONFIRMATION & QUESTIONNAIRE FORM. We will give you a BANK ACCOUNT FOR YOU TO ARRANGE A TELEGRAPHIC TRANSFER or B.PAY, DIRECTLY FROM YOUR BANK TO OUR BANK. You fax us the bank receipt as evidence of your payment, & we're in action! Payment is non-refundable if you cancel. Bookings are not confirmed, & dates are not held, until payment is made.
* FOR LOCAL BOOKINGS WE REQUIRE A NON-REFUNDABLE DEPOSIT, to confirm your gig, with the balance payable just prior to the gig. This deposit helps protect our comedian & script writer against potential cancellation. Bookings are not confirmed & dates are not held, until your deposit is made. We reserve our right to confirm other bookings, giving priority to bookings confirmed with deposits. We are limited with the number of gigs we can perform in a day or night, & once we receive our quota, we do not accept further bookings. Thus to avoid disappointment, your deposit should be made without delay.
* * * * * * * * * * * * * * * * * * * * * * * *
* * * * * * * * * * * *
Please CLICK HERE to return to the COMEDY SPECIALISTS HOME PAGE.
* * * * * * * * * * * *
COMEDY SPECIALISTS
The Jungle Chalet,
Valleyview Glen,
Cnr Valleyview Cres. & Innes Rd,
Greenwich,
SYDNEY, NSW, 2065.
AUSTRALIA.
EMAIL
fun@comedyspecialists.com.au
Phone:
61 - 2 - 9906 2350. (9am - 6pm, Monday - Friday. Answer phone after hours.)
Mobile:
n/a. (en route to gigs.)
Facsimile:
61 - 2 - 9439 2319. (24 hours, 365 days p.a.)
Visitors to this page since establishment on 20.10.99.