SIGHTSEEING
Be entertained while Sightseeing in Sydney!...
...in a COACH, on a CRUISE BOAT on Sydney Harbour...
...or in the CHOOKMOBILE, if there are only one or two of you!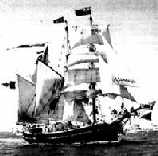 Picured ~ the SVANEN - tall ship on Sydney Harbour.
Picured ~ the LAURIANA.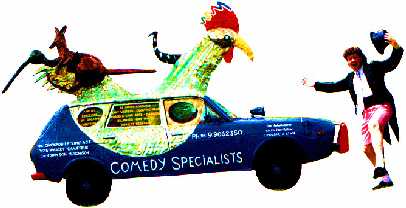 We will take you anywhere you would like to go in Sydney...just let us know your preferred destinations!...Or you can trust us to devise an interesting itinerary especially for you!
Please give us a few guidelines - e.g. tourist destinations, shopping, nightlife, Australian culture, vineyards, an outing on Sydney Harbour, the Olympic site, Jenolan Caves, Art and Craft shops, Taronga Zoo... to name just a few!
Listed below are some of our existing relevant Acts, Shows and Packages which you may find relevant and interesting.
PLEASE CLICK BELOW:
Please CLICK HERE if you would like a COMPLETE COMPANY PROFILE.
Please CLICK HERE to return to the COMEDY SPECIALISTS HOME PAGE.
COMEDY SPECIALISTS
The Jungle Chalet,
Valleyview Glen,
Cnr Valleyview Cres. & Innes Rd,
Greenwich,
SYDNEY, NSW, 2065.
AUSTRALIA.
EMAIL
fun@comedyspecialists.com.au
Phone:
61 - 2 - 9906 2350. (9am - 6pm, Monday - Friday. Answer phone after hours.)
Mobile:
n/a. (en route to gigs.)
Facsimile:
61 - 2 - 9439 2319. (24 hours, 365 days p.a.)