ROASTS for Private / non-corporate occasions: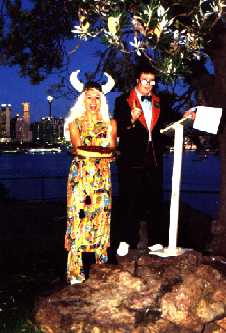 You may want to give a person a Roast?...Alternatively you may want a comedy act, specially written for several people. If this is the case, a Roast can be cheaper than a Comedygram (where an additional cost applies for each additional person.) ... We write and deliver individualised Comedy Scripts. These can be in the form of a specialised character for no extra cost (unless we have to hire a costume.) Just email us & we will send you a questionnaire form. The information you supply us with becomes the basis for the script.
COST varies ~ $450 - $800
$25 discount is given for local bookings, i.e. bookings made in Sydney, for Sydney, with local phone & fax charges, as opposed to STD, IDD or mobile call bookings.
N.B. That Corporate Roasts are more expensive.

SOME OF THE FOLLOWING ADDITIONAL CHARGES & CONDITIONS MAY APPLY:
* Travelling expenses apply for Private or non-Corporate Bookings. Corporate Bookings are on a higher & different price scale. When you let us know the location & time, we will confirm the travelling time. e.g. Offpeak to the city is $20, Offpeak to Parramatta is $35, Offpeak to Bondi Beach is $35, Offpeak to Chatswood is $10.
* These fees apply when bookings are confirmed by fax, with more than 4 office days notice, except for during the Silly Season.
* Same day bookings, Monday to Friday, or with less than 8 office hours notice, are additional $75. Same weekend bookings are an extra $100.
* Bookings confirmed with only one or two office days notice, are additional $50.
* Only 3 - 4 confirmed office days notice, is additional $25.
* When script / performance is for 2 or more people, an additional charge of $50 per person applies. Each receives copy of script. The script & performance time may be slightly longer. If script is for a group (cf individual), a Roast may be cheaper.
* There is an additional charge on Sundays of $25 for Solo Acts & $35 for Duet Acts.
* For gigs between 10 pm & midnight, & 8am - 10 am. there is an additional charge of $75. Between midnight & 9am this charge is $100.
* During Silly Season, the first Wednesday in November - first Monday after New Years Day, fees increase by $50 - Monday & Tuesday [day], $75 - Wednesday & Thursday [day] & Monday, Tuesday, & Wednesday [nights], $100 - Thursday night, Saturday [day] & Sunday [day & night], $125 - Friday & Saturday nights.
* New Years Eve, New Years Day & Christmas day fees are negotiable.
* During Silly Season, a Short Notice charge of $150 applies with less than three office days confirmed notice. When only 3 - 5 office days confirmed notice, the extra charge is $100.
* Good Friday & Easter Saturday, Sunday & Monday, fees increase by $125.
* On other Public Holidays fees increase by $125. If the public holiday falls on a Friday or Monday, the weekend charges increase by $100.
* ROAD & HARBOUR BRIDGE CHARGES & TOLLS apply accordingly.
* COMEDIAN also DANCES with recipient - $50.
* FLOWERS. / WINE. / HIRED COSTUME. / COURIER. - $extra.
* GUARANTEED STARTING TIME can be booked. This is an extra $100, except during the Silly Season, when this is an extra $200. If this is booked and the performer is more than 5 minutes late, $125 is subtracted from total cost of the gig. [N.B. Most clients are happy with the usual less expensive half hour starting time range.]
* OUT OF TOWN GIGS - extra $50 - $500, depending on extent it restricts number of gigs performed on day.
* WE REQUIRE PAYMENT UPON CONFIRMATION, FOR ALL OVERSEAS BOOKINGS. i.e. When we send you the CONFIRMATION & QUESTIONNAIRE FORM. We will give you a BANK ACCOUNT FOR YOU TO ARRANGE A TELEGRAPHIC TRANSFER or B.PAY, DIRECTLY FROM YOUR BANK TO OUR BANK. You fax us the bank receipt as evidence of your payment, & we're in action! Payment is non-refundable if you cancel. Bookings are not confirmed, & dates are not held, until payment is made.
* FOR LOCAL BOOKINGS WE REQUIRE A NON-REFUNDABLE DEPOSIT, to confirm your gig, with the balance payable just prior to the gig. This deposit helps protect our comedians, performing cast & script writer against potential cancellation. Bookings are not confirmed & dates are not held, until your deposit is made. We reserve our right to confirm other bookings, giving priority to bookings confirmed with deposits. We are limited with the number of gigs we can perform in a day or night, & once we receive our quota, we do not accept further bookings. Thus to avoid disappointment, your deposit should be made without delay.
* * * * * * * * * * * * * * * * * * * * * * * *
Please CLICK HERE if your function is for a CORPORATE or business occasion.
Please CLICK HERE to return to the COMEDY SPECIALISTS HOME PAGE.
COMEDY SPECIALISTS
The Jungle Chalet,
Valleyview Glen,
Cnr Valleyview Cres. & Innes Rd,
Greenwich,
SYDNEY, NSW, 2065.
AUSTRALIA.
EMAIL
fun@comedyspecialists.com.au
Phone:
61 - 2 - 9906 2350. (9am - 6pm, Monday - Friday. Answer phone after hours.)
Mobile:
n/a. (en route to gigs.)
Facsimile:
61 - 2 - 9439 2319. (24 hours, 365 days p.a.)