PIRATE PARTY
ON SYDNEY HARBOUR
EXCLUSIVELY FOR
CHILDRENS BIRTHDAYS
Aboard the Sea Messenger
With Entertainer, Don Murchison.
& his colourful female assistant Pirate.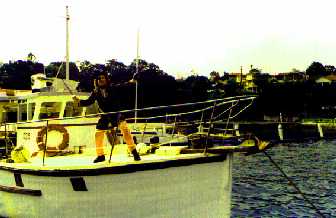 Walk the plank & board the Sea Messenger for a fun-filled Pirate Party.
Pirate Theme Parties are three hour kiddies parties on board the cruiser, Sea Messenger. The children are usually picked up from Greenwich Wharf [this is the cheapest option], but can be picked up from other public wharves in Sydney Harbour. On board they are entertained and given a guided tour around Sydney Harbour, or the Lane Cove River, by 'Pirate', Variety Artiste, Don Murchison, and his female assistant pirate.
On board, Fun with Games include dance competitions, the bop-drop, musical statues, musical chairs, blind mans buff, walking the plank, hide the balloon, plus many more......Don's pirate assistant often Face Paints the children, & the children can dance to the Sea Messenger music!
A highlight of the Pirate Theme Parties is the Treasure Hunt! The boat pulls in to land & children are given a map with instructions on how to locate the hidden treasure. The number of pieces of hidden treasure equates with the number of children on the cruise [i.e. one piece of treasure per child if they share the spoils, as we recommend!]
In keeping with the theme of the party, we organise an item of 'Pirate Treasure' for each child to take home. These are not the normal party bag, but one Pirate Gift which is wrapped in plain paper.
We recommend you organise your own Party Food, which in turn will keep costs down. On board is a gas BBQ. This can be used at no additional expense, with prior notice being given. Our assistant can assist you on board with party food presentation. (Alternatively we can organise all the party food, if you wish, for an extra charge per head, depending on numbers and the type of food.)
The cruise can accommodate up to 30 children, plus up to 6 additional adults, a maximum total of 36 people. We recommend you have one responsible adult for every six children, to accompany the cruise to keep an eye on the children [ie. ensure they don't lean over the side, embarking / disembarking, etc. There is no extra charge for the adults, but obviously adults do not receive 'Pirate treasure'.
* * * * * * * * * * * * * *
The Cost includes the Boat, Skipper, Pirate Entertainer, Assistant Pirate, Treasure Hunt, Fun with Games, Face Painting [when relevant], Treasure, Take Home Treasure.
Normal Cost refers to most of the year. 'Silly Season Prices' refers to bookings from the 2nd weekend in November until the 2nd weekend in January, all Public Holiday Weekends, Public Holidays [which may be extra] & Melbourne Cup Day.
Departure from & Return to GREENWICH:
* NORMAL COST:
10 children - $1,324.25 ~ [average $132.43 per child.]
15 children - $1,353.13 ~ [average $90.21 per child.]
20 children - $1,382 ~ [average $69.10 per child.]
25 children - $1,410.88 ~ [average $56.44 per child.]
30 children - $1,439.75 ~ [average $47.99 per child.]
For another number of children add $5 per child over & above 10 children, to the base price of $974 for 10 children.
* PRICES DURING THE 'SILLY SEASON':
10 children - $1,534.25 ~ [average $153.43 per child.]
15 children - $1,563.13 ~ [average $104.21 per child.]
20 children - $1,592 ~ [average $79.60 per child.]
25 children - $1,620.88 ~ [average $64.84 per child.]
30 children - $1,649.75 ~ [average $54.99 per child.]
N.B. These price averages to not take into account the adults - who obviously bring the average cost per head down considerably. [e.g. With adults included, the Normal Cost per person - for 30 children & six adults - total of 36 people, is only $39.99 per person.]
Of course we can accommodate any number of children up to 30. Just ask us for the price. The prices above are a good guide.
* * * * * * * * *
* We are not able to berth at all whalves around the harbour. However if Greenwich is inconvenient, we can generally offer you alternatives at a slightly increased cost. See below, under 'Optional Extra Charges'.
OPTIONAL OTHER CHARGES:
* Sundays ~ additional $50.
* Evening, any day of the year ~ additional $100.
* Christmas Day, New Years Eve, New Years day, Melbourne Cup Day, Easter Friday & Sunday ~ extra charges usually apply, please inquire.
* Party food is not included, but is available upon request.
* Departure from & Return to other whalves the Greenwich side of the Harbour Bridge, e.g. Balmain, Milsons Point... ~ extra $25.
* Departure from & Return to other whalves the seaward side of the Harbour Bridge, e.g. Kirribilly, The Rocks... ~ extra $50.
* Departure from & Return to other whalves the seaward side of the Harbour Bridge, further afield, e.g. Rose Bay, Double Bay, Mosman... ~ extra $100.
* * * * * * * * *
A NON REFUNDABLE DEPOSIT, USUALLY OF 50%, IS PAYABLE TO CONFIRM YOUR CRUISE. No booking will be held or accepted until we receive the deposit. The total fee must be paid a minimum of two weeks in advance of the cruise. Please send your payments to:

With cheque made out to: ~ Don Murchison, COMEDY SPECIALISTS
The Jungle Chalet,
Valleyview Glen,
Cnr Valleyview Cres. & Innes Rd,
Greenwich,
SYDNEY, NSW, 2065.
AUSTRALIA.
* * * * * * * * * * * * * *
If you are family tourists this is a great way to cruise the harbour, view the famous Opera House, cruise under the Harbour Bridge to Taronga Zoo, pass by Darling Harbour and see the historic Luna Park face. We can take you anywhere on the harbour, time permitting! ...with your children having the time of their young lives!
* * * * * * * * * * * * * *
Please CLICK HERE to return to the COMEDY SPECIALISTS HOME PAGE.
EMAIL
fun@comedyspecialists.com.au
Phone:
61 - 2 - 9906 2350. (9am - 6pm, Monday - Friday. Answer phone after hours.)
Mobile:
n/a. (en route to gigs.)
Facsimile:
61 - 2 - 9439 2319. (24 hours, 365 days p.a.)
N.B. Cruise prices are subject to confirmation & may change without notice.
This page was created 1999 & last amended 28.10.04.