THE CHEAPEST,
NO FRILLS PARTY PACKAGE OPTION!!!
Recommended for those with an 'iron stomach'...,
...but NOT recommended for the 'faint hearted'!
If you've looked at everything else & you still can't decide on a venue or entertainment, we can pitch a marque in your company's backyard and serve you dog food, courtesy of our colloquial derro-dag!!!...We haven't even charged you for the shopping!!!!!!
This is the only catering package in the World where dogs are counted as humans for the purpose of catering numbers!
This particular package is probably the only thing for sale on the internet, where the salesman is actually trying to talk you out of buying the product!
The time of the day and grass / concrete surface determines the cost of marque hire, set up & removal.
* Option 1. - Marque, erected on grass, at cost effective time - $727.10
* Option 2. - Marque, erected on concrete, at cost effective time - $961.40
* Option 3. - Marque, erected on grass, at more expensive time of day - $965.80
* Option 4. - Marque, erected on concrete, at more expensive time of day - $1,181.40
If booked as part of a cruise package we recommend sea sickness tablets,
to be taken one hour prior to the cruise by ALL guests!
Free Aspro for all those leaving the party without vomiting!
P.S. There is a reason why this page is Karitane yellow!
* * * * * * * * * * * *
* For an extra 1,400 bucks we will even chuck in the 'Anorexic Santa & Ms Mary Christmas Comedy & Dance Act'!...& this includes 75 bucks worth of comical / booby-prize pressies!...& is well worth the laugh! While we don't recommend the food package, we do recommend this act!
* * * * * * * * * * * *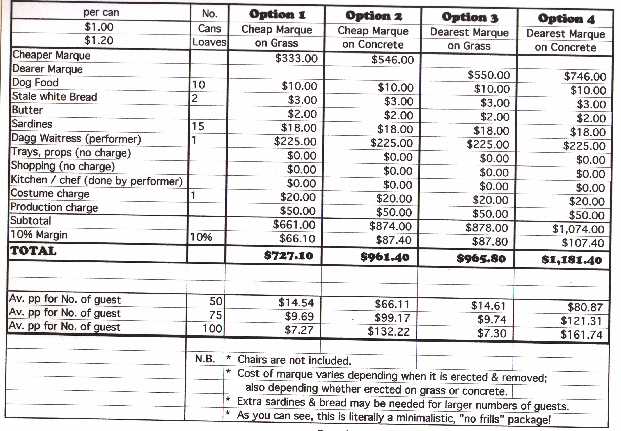 Check out the Anorexic Santa & Ms Mary Christmas Comedy & Dance Act
* * * * * * * * * * * *
CLICK BELOW TO RETURN TO OUR other, more palatable SILLY SEASON SPECIALS:
* * * * * * * * * * * *
We tried to get sponsorship for the marque. If we had been successful the cost of this package would have been zilch! The moral of this page? - Unfortunately you can get virtually nothing for nothing these days...
N.B. Prices are subject to confirmation & change without notice. This is because parts of the packages are subcontracted out & we have no control over price increases or availability. Please check the date at the bottom. If it is hopelessly out of date, then so too will be these prices.
There are no referees or photos of this No Frills Package Option. No-one has been game enough to try it!...including the comedians @ Comedy Specialists!!!.....So was this a waste of our time??? - No, not if it made you laugh!....At least you got something for free....even if it was only a Karitane laugh!!!
* * * * * * * * * * * *
COMEDY SPECIALISTS
The Jungle Chalet,
Valleyview Glen,
Cnr Valleyview Cres. & Innes Rd,
Greenwich,
SYDNEY, NSW, 2065.
AUSTRALIA.
EMAIL
fun@comedyspecialists.com.au
Phone:
61 - 2 - 9906 2350. (9am - 6pm, Monday - Friday. Answer phone after hours.)
Mobile:
n/a. (en route to gigs.)
Facsimile:
We have discarded our fax & now just use email for all file transfers.
The substance of this page has not been changed since it was created on 30.5.2001. We do not wonder why!!!
Visitors since 3.11.2011:
Web Counter